About JM Monument & Owner John Markas
Origins of The Grave Saver™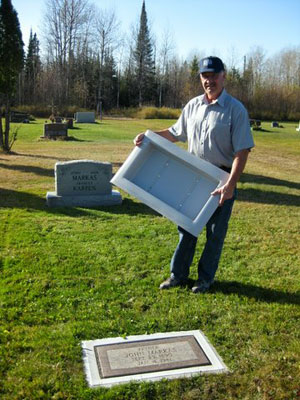 My name is John Markas and I have been in the monument business since 1996 when I started straightening, leveling, and selling head-stones, foot-stones, and grave markers at my local cemetery. People are constantly requesting that I preserve their family and friends' head and foot markers, because over time most sink and become grassed over. To overcome this challenge I devised a system of leveling the markers and putting a cement border around them to keep grass from growing over the monument.
However, because this is such a time consuming process it is very expensive. Most monument companies charge $350 or more to put a three inch cement border around a foot marker. Every time I would do this time consuming procedure of digging, leveling, mixing cement, and landscaping a cement border around a foot marker, I would think to myself, "There has to be an easier way."
That's when I invented the Grave Saver™, which can be installed by anyone at a fraction of the price. It stands up to all extremes of weather with a natural lasting look. Grave Savers™ do an incredible job improving the appearance of your cemetery grave sites year after year. Don't let your loved ones memorials fade away, keep them alive with a Grave Saver™!