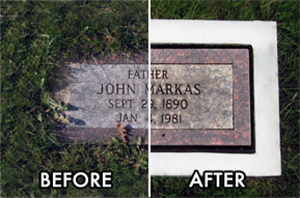 I've had many comments regarding my cemetery patented invention called the Grave Saver and I would like to share them to the readers out there.
Just last week, I installed one of the grave savers for a family from California. Their mother had passed away and they buried her in Buhl, Minnesota. The family sent me an e-mail which said, "your work on my mom's foot stone just made our jaws drop". Thank you so much.
A month ago, I mailed out ten grave savers to a retailer in Texas. He wrote back that he just finished setting his first headstone with the grave saver and it looks awesome. It sets his work apart from all the other headstone grave markers in the cemetery and all who have seen it so far think it is awesome.
Another customer wrote that she had seen several of these at her local cemetery and they look very nice. They will prevent the problem of grass and weeds overgrowing the stone, which is a constant battle to prevent. I very much like this and will be ordering two more of them.
One customer also responded that he had no problems. It was easy to install.
These are just a few documented comments that I have received regarding this cemetery accessory called the Grave Saver. This is a great product for a private individual, monument sales company, or cemetery association. It enhances the appearance of cemetery markers in the cemetery and eliminates the overgrowth of vegetation. It is not difficult to work with and simple to install.
The Grave Saver is a remarkable cemetery accessory.